Speaker Event-Book Reading and Q&A: Dr. E Patrick Johnson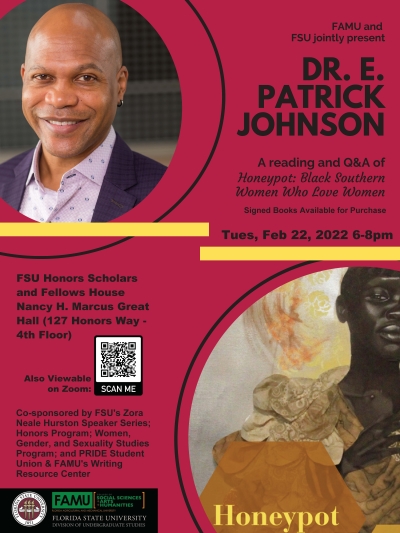 Florida State University and Florida A&M University present a reading and Q & A with Dr. E. Patrick Johnson. Admission to the live event is free and open to the public in the Nancy H. Marcus Great Hall, located on the 4th floor of the Honors, Scholars, and Fellows House (127 Honors Way, FSU). The event will also be streamed via this Zoom link: https://fsu.zoom.us/meeting/97539586176

Dr. Johnson will read from and answer questions about his new book, Honeypot: Black Southern Women Who Love Women. Duke University Press describes Honeypot: Black Southern Women Who Love Women as "Combining oral history with magical realism and poetry, Honeypot is an engaging and moving book that reveals the complexity of identity while offering a creative method for scholarship to represent the lives of other people in a rich and dynamic way."

Dr. E. Patrick Johnson is Dean of the School of Communication and Annenberg University Professor at Northwestern University. A member of the American Academy of Arts & Sciences, Johnson's work has greatly impacted African American Studies, Performance Studies, and Gender, and Sexuality Studies. He is the author of several books, including Appropriating Blackness: Performance and the Politics of Authenticity (2003); Sweet Tea: Black Gay Men of the South—An Oral History (2008); Black. Queer. Southern. Women.—An Oral History (2018); Honeypot: Black Southern Women Who Love Women (2019), in addition to a number of edited and co-edited collections, essays, and plays. Johnson's written and performance work dovetail intimately. His staged reading, "Pouring Tea: Black Gay Men of the South Tell Their Tales," has toured to over 100 college campuses since 2006. The full-length stage play, Sweet Tea—The Play, premiered in Chicago, toured across 8 other cities, and to the National Black Theater Festival.

This event is co-sponsored by FAMU's Writing Resource Center and FSU's Zora Neale Hurston Speakers Group, Women, Gender, & Sexuality Studies Program, Honors Program, and PRIDE Student Union.
Tuesday, February 22, 2022 at 6:00pm to 8:00pm
Honors, Scholars and Fellows House (HSF), Great Hall, 4th Floor
127 Honors Way, Tallahassee, FL